DEALER INFO
DEALER INFO
DEALER INFO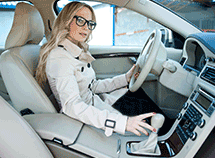 She's Got Influence and Money.
And She's Shopping for a Car.
Women are an important market segment in the car buying
industry. For the first time in history, there are now more
women licensed to drive than men. Research shows that

females drive more than 85% of all consumer decisions,
including those for cars and technology. Globe Newspaper Company
shesgotwheels.com is a car shopping portal specifically designed by women for women
to help cut through the clutter and confusion, and ease the online car shopping process.
Contact us for details to partner with shesgotwheels.com
Call 903-593-5400 or email for more information